The Science Behind
Resveratrol
Resveratrol is a guardian molecule of plants. It protects them from injury and pathogen infection. It belongs to the greater family of polyphenols, like quercetin. Our diets include small quantities of resveratrol; mainly from grapes, red wine, and knotweed (1). There are two main forms of resveratrol: trans and cis. Trans-resveratrol is the most abundant, stable and biologically potent form (2). The two forms have a small difference in their 3D structure (Figure 1).
The potential benefits of resveratrol extend beyond plants to humans. A total of 191 clinical trials involving resveratrol (by itself or in combination with other compounds) are registered at clinicaltrials.gov. Out of these, 27 are still active. These potential benefits include cardiovascular, neuroprotective, anti-cancer, anti-oxidant, anti-inflammatory and pro-longevity. We see more closely some of these below.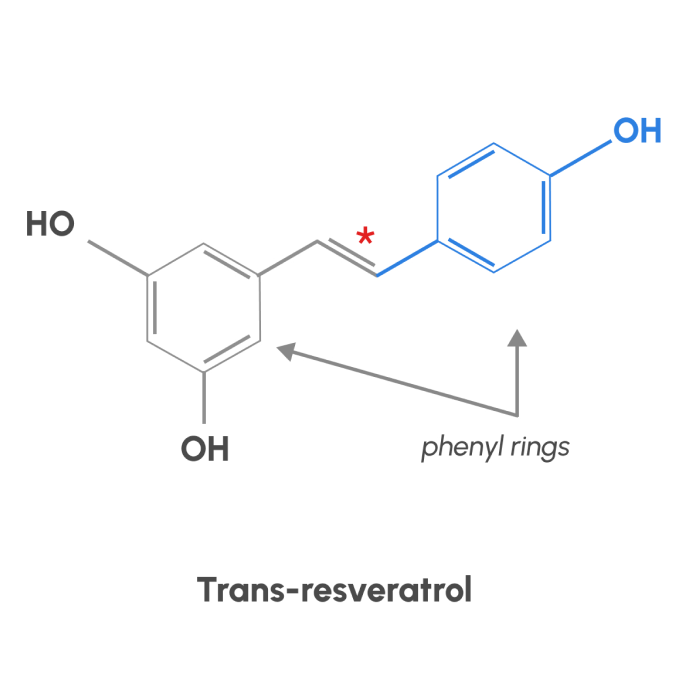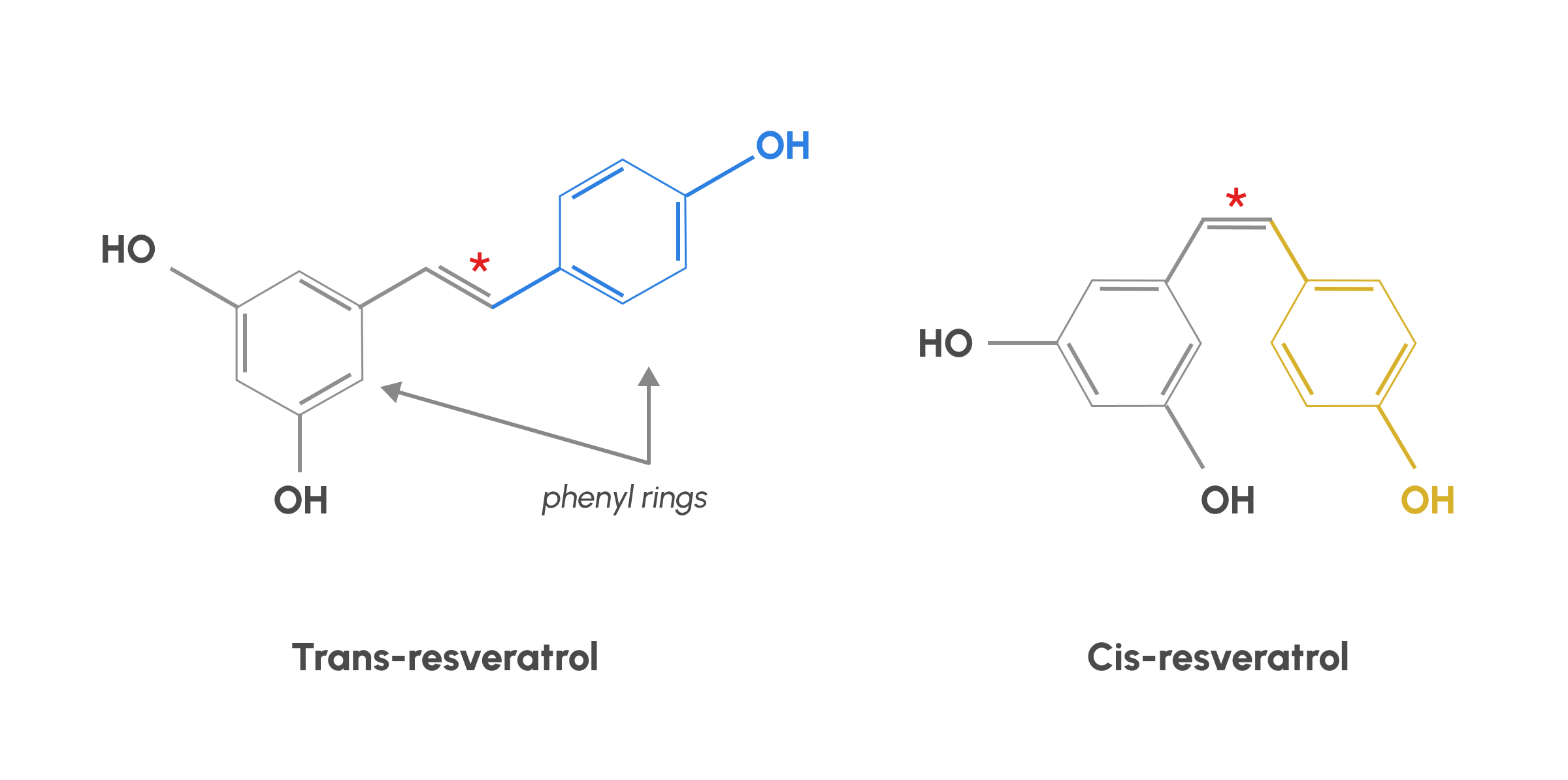 Figure 1: Trans and cis resveratrol. Trans and cis molecules differ in the position of the phenyl rings. In the trans form, the two pheny,rings are on either side of the double bond (red asterisk). In the cis form the phenyl rings are on the same side of the bond. Trans resveratrol is more stable than cis.
Cardiovascular and metabolic benefits
The greatest part of research on resveratrol is on its cardiovascular and metabolic benefits. Several in vivo studies have shown that it can counteract a bad diet (3, 4). For example, when rhesus monkeys were on a diet high in saturated fat and glucose, resveratrol improved their aortic stiffness by up to 40 per cent (3). Thereby, it partially protected them from the deleterious effects of that diet.
In humans, resveratrol has the most striking results in patients with type 2 diabetes (T2D). There is a plethora of clinical trials in the field as well as a few meta-analysis studies (5-8). Meta-analysis studies analyze together the results of multiple clinical trials.  Three meta-analysis studies confirmed that resveratrol ameliorates glucose levels, and lowers blood pressure and insulin levels in T2D patients (9-11). The ideal dose (less than 500mg or 1000mg) is still to be determined with studies showing contradictory results.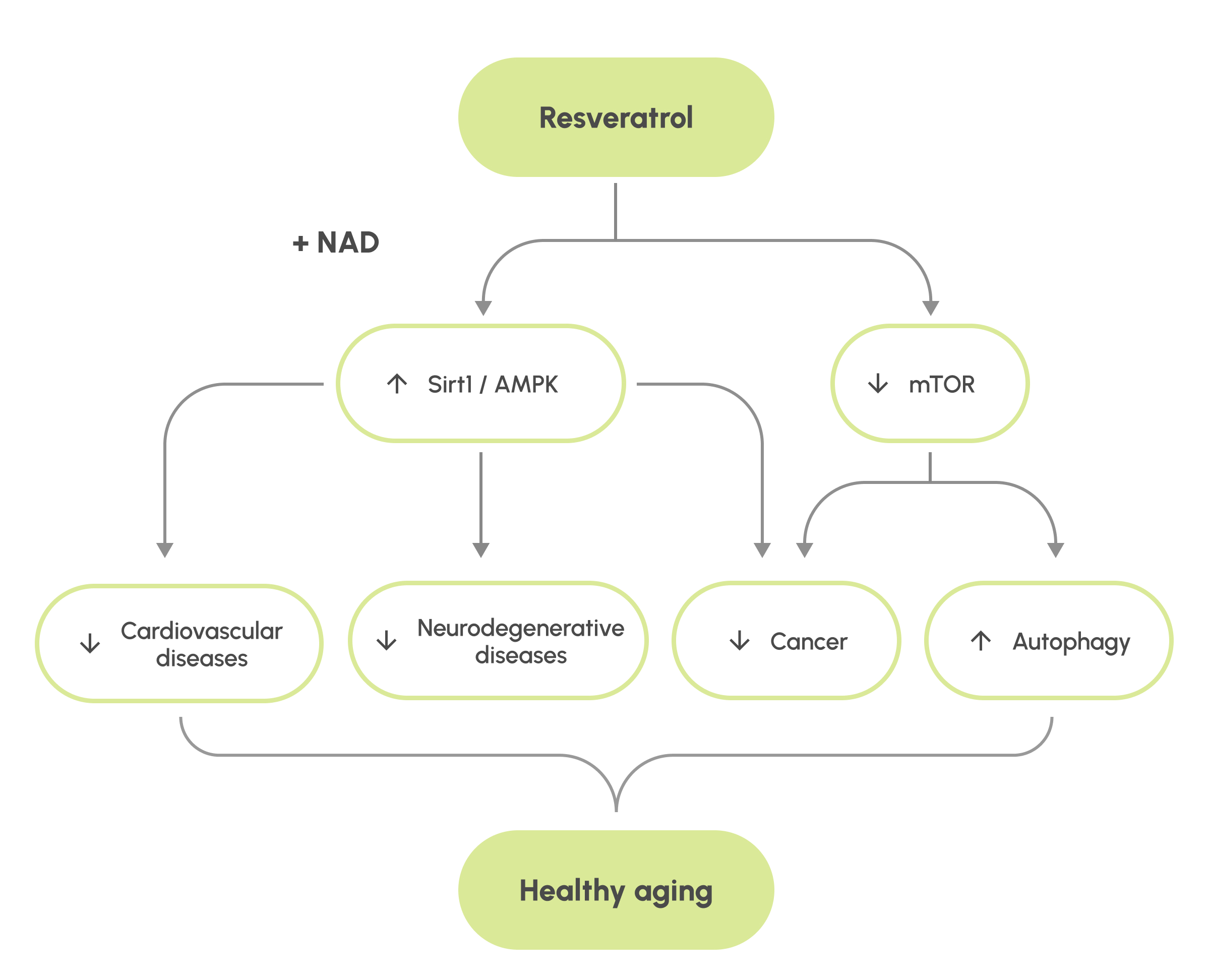 Figure 2: Potential benefits of resveratrol. Resveratrol may contribute to improvement of cardiovascular and neurodegenerative diseases; help prevent cancer and increase autophagy. Improvements in these areas contributes to healthy aging.
Another potential benefit of resveratrol is neuroprotection. Clinical studies in both healthy and Alzheimer's Disease (AD) patients had positive outcomes. In healthy aged adults, just 200g daily was shown to improve memory (12). In AD patients, escalating doses up to 2g, reduced amyloid beta, smoothened neuroinflammation and even improved cognitive function (13).
The neuroprotective role of resveratrol stems from different qualities. It is an antioxidant that directly sequesters reactive oxygen species and enhances our own antioxidant mechanisms, like the enzyme glutathione transferase (14). It reduces inflammation by inhibiting pro-inflammatory molecules. Most importantly, it inhibits the formation of beta-amyloid aggregates and plaques, a hallmark of AD (15).
There are a lot of in vivo studies suggesting anti-cancer activities for resveratrol. In animals, it is promising for pancreatic, prostate, colorectal, liver, and breast cancer (16). Furthermore, thanks to its antioxidant and anti‐inflammatory properties, it supports an anticancer environment. 
Human trials for cancer treatment are ongoing with no results available yet. Nevertheless, there are a couple of trials related to cancer prevention in healthy volunteers. In the first trial, 1-2.5g of resveratrol reduced IGF-1 (insulin-like growth factor 1), a hormone related o tumor formation and metastasis (17). In the second one, 1g of resveratrol activated detoxifying enzymes that can inhibit tumorigenesis, while it inhibited enzymes that can promote tumorigenesis (CYP enzymes) (18, 19). 
Resveratrol, as mentioned before, helps plants fight injury. This means that it is also a messenger for stress. There is a theory that it also acts as a messenger for stress in humans (20). This stress is similar to the stress after exercise or calorie restriction. You may be wondering, is this a good thing? Apparently so, as exercise and calorie restriction have undoubtful benefits in longevity. Similarly, resveratrol has increased longevity in many species: yeast, worm and fish (21). This includes mice that were on a bad diet, that had 30% less risk of death (4). In healthy mammals, including humans, this is yet to be proved.
Similar to exercise and calorie restriction, resveratrol activates SIRT1, the "protein of longevity" (21). More precisely, resveratrol binds to SIRT1 and it increases its responsiveness to NAD+ (22). As a result, NAD+ is used more efficiently. So, NAD and resveratrol act synergistically and when supplemented together they can have additive benefits. 
Other that the sirtuins pathway, resveratrol is also involved in the mTOR (mammalian target of rapamycin) pathway. mTOR inhibits autophagy. Resveratrol reduces the activity of mTOR resveratrol, thereby inducing autophagy. Autophagy helps clear up unwanted and potentially harmful cells and other material. It is crucial for aging and cancer (23, 24).
Can't I just drink all the resveratrol I need in wine? It seems like the French do it…
Nice try. The French paradox may be true to an extent. According to that, although the French diet is high in saturated fat and cholesterol, French people have a low incidence of death from coronary heart disease (25). And admittedly they love their wine. Nevertheless, wine probably is not the only reason for the French paradox.  Vegetable and fruit consumption and physical activity also play a role (25). 
When it comes to resveratrol, a glass of red wine, depending on its origin, contains 0.3-1.8mg of resveratrol (14). Even though the ideal dose of resveratrol is not set, it can definitely not be achieved with healthy drinking.
Are there any safety concerns regarding resveratrol supplementation?
In general, resveratrol supplementation is considered safe. However, high doses above 2.5 g may cause gastrointestinal distress (17).
We mentioned earlier that resveratrol inhibits CYP enzymes which may be beneficial for tumorigenesis. However, CYP enzymes also participate in the metabolism of multiple drugs like statins, antihistamines and antiarrhythmic drugs. Inhibition of these enzymes could reduce the metabolism of these drugs. As a result, they would remain in the body for longer, with a possible risk of toxicity (18,26,27).
Resveratrol is a molecule with many potential benefits, mainly thanks to its antioxidant and anti-inflammatory properties. Its role in improving the markers of diabetes is established. Other potential benefits include neuroprotection, cancer prevention, and healthy aging. Ongoing clinical trials will help us know more in the future. 
Note: This article is not intended to provide medical advice. If you are taking medication consult your doctor before supplementing with resveratrol.
Resveratrol Quality Reports
All of our product has been manufactured in a US-based, FDA, GMP, and NSF registered facility under strict GMP standards, and third-party lab tested.